11:30-1pm Frate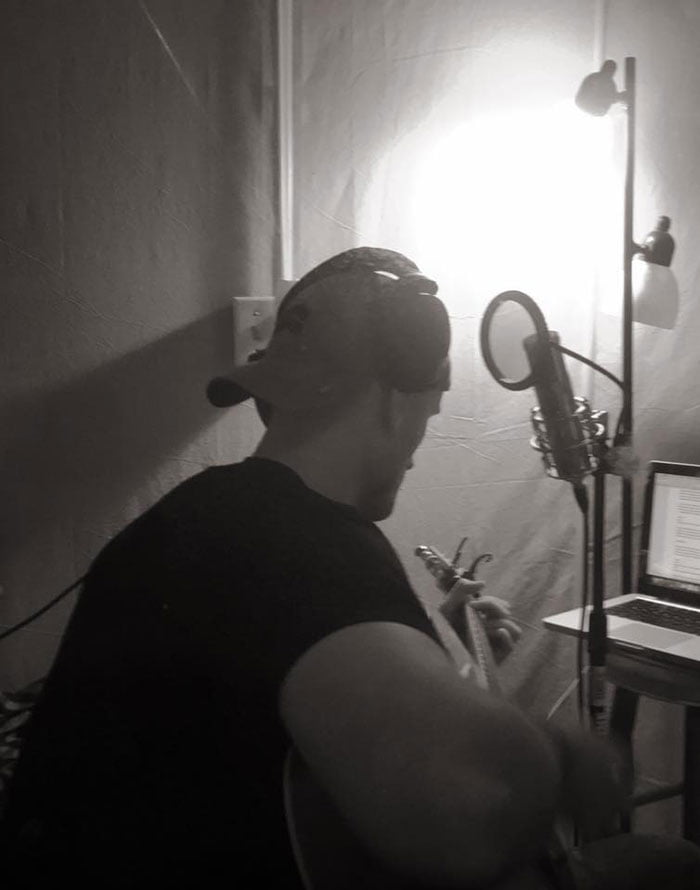 Singer Songwriter from Hannibal, Missouri. He writes about the river, drinkin, and small town livin. Mostly plays the bars, wineries, private parties, and most the local shows in and around the Hannibal and Quincy area. Plays over 200 covers as well as originals.
1:30pm-3pm Arkansauce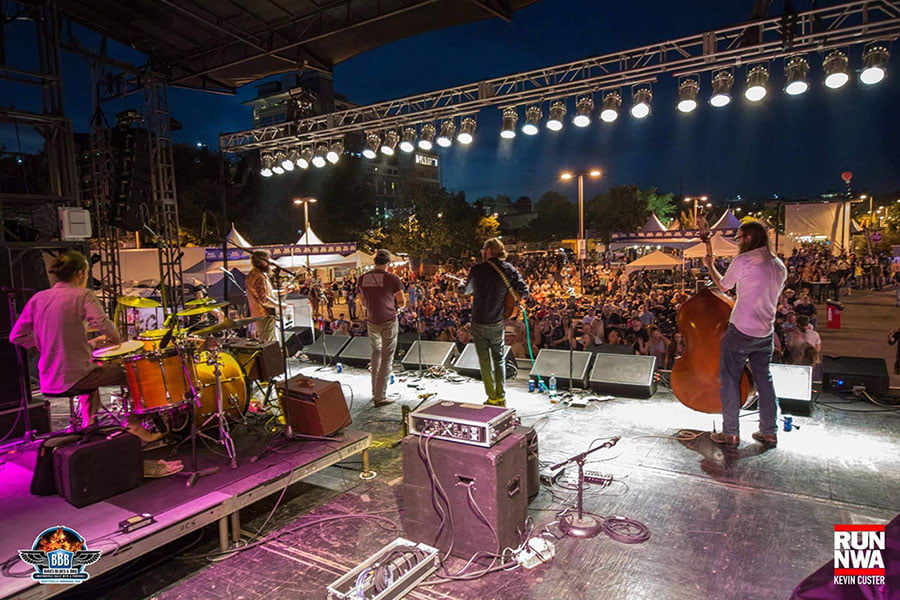 Arkansauce is a genre-hopping, four piece string band from northwest Arkansas, bending the rules and blurring the lines between bluegrass, newgrass, folk, americana, and country. With two albums under their belt in the last two years, and a loyal following growing every day in the Natural State, the band is proud to be stepping into a hard-driving sound they can call their own.
The band's roots go back to 2011 when founding members Ethan Bush, Zac Archuleta, and Stephen Jolly began picking together after becoming acquainted through mutual connections in the close-knit Fayetteville music scene. After a couple of years building a repertoire of original music and releasing their first album as a trio, they were joined by Tom Andersen on the upright bass and Adams Collins on the five-string banjo. The road-tested chops Andersen and Collins brought to the table helped to cultivate the mature, well-rounded sound needed to accommodate their sophomore release "All Day Long."
An Arkansauce show is riddled with improvisational guitar, banjo, and mandolin leads, paired with powerful harmonies and heart-felt songwriting. There's an undeniably intimate connection between the band and their fans that's contagious and leaves everyone in front of, and on the stage wanting more. Arkansauce holds their head high, as they look forward to enjoying everything life and music has in store for them and their fans.
3:30pm-5pm The Flood Brothers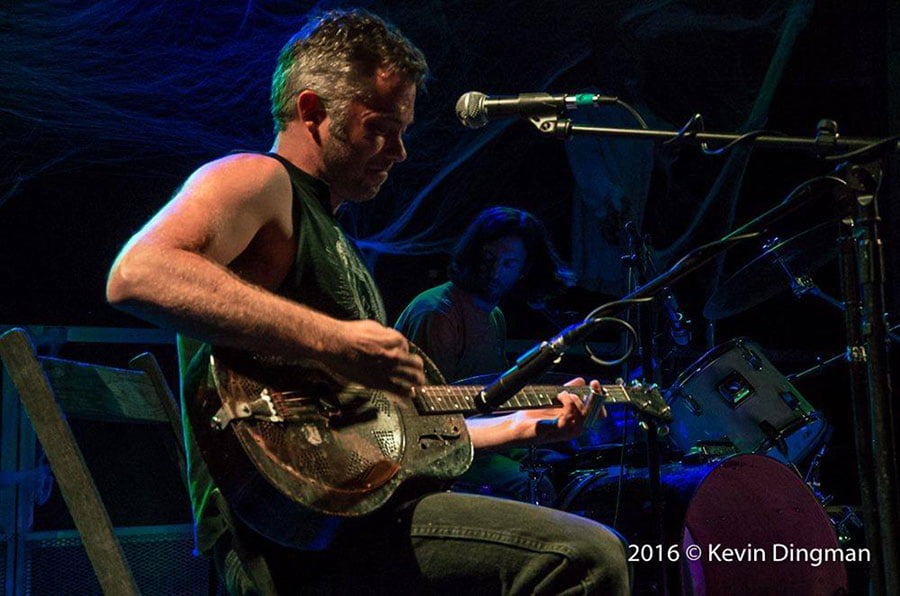 The Flood Brothers are a THUMP MACHINE whose infectious melodies and animal rhythms will have your bones shakin' outta your boots! Heavily influenced by the early Rock 'N' Roll sounds of Memphis and Deep Blues of North Mississippi, Gabe Meyer with Colin and Jacob Best add their own bend to the boogie that could only come from the muddy banks of the mighty Mississippi River. Hannibal, MO is where these boys and their music call home.
Forming in a basement in early 2000, The Flood Bros. cut their teeth a few years later as the unofficial house band at The Packer's Roost; a rowdy dive bar in rural off-the-grid Montana near Hungry Horse.
"Our first gig was actually in Wapiti, Wyoming in 2002. We used a mop, bucket, and duct tape for a mic stand, played for five hours and hadn't practiced in three months," says Meyer. "We nailed it."
Best adds, "Our first gig at Packer's was on Christmas Day. We showed up at about 6:00 that evening after working all day on the mountain, walked in with our gear, Gabe's wearing shorts, and these people are smashed wasted throwing every insult short of a beer bottle. All we could do was yell and holler back, set up and play. We felt instantly at home. Everyone in Whitefish warned us not to go out there. Too rough. We played through lots of fights, knives, and EMT's…..we were paid in duck, goose, and mashed potatoes."
After returning home, the guys started a band with Kent Burnside, the oldest grandson of the legendary R.L. BURNSIDE, as Kent Burnside and the New Generation. Son of R.L., Dan Burnside joined on bass, Best was on drums and Meyer on lap steel guitar. With R.L. Burnside being a musical hero, Gabe and Jake already knew most of the music by heart and within three weeks were on a major West Coast tour. During the years of 2006-2010, the band played regularly at many notable venues nationwide such as Legends, Chicago, Ill; Ground Zero, Clarksdale, MS; The Knitting Factory, Hollywood, CA; Gip's Place in Bessemer, AL (Alabama's last remaining Juke Joint, on the blues circuit for over 50 years - a must visit venue), and the House of Blues in Chicago. Gabe and Jake also had the chance to share the stage and play alongside many standout musicians with the Burnsides: Buddy Guy, Bobby Rush, Kenny Brown, Duwayne Burnside, Cedric Burnside, Garry Burnside, the sons of Junior Kimbrough, and the daughter of Johnny Shines to name(drop) a few. "My guitar's more famous than I'll ever be," says Meyer. "Elmo Williams played it up in Minneapolis." "Kenny Brown played it later that night at a bar down the road and then we all got kicked out." "It's been stolen, pawned, and bled on." "She always comes home and never talks back."
Meyer and Best rotated a bit, playing around down South with whichever of the Burnsides needed a solid drummer and rhythm and slide guitar player. "None of those guys really played slide. The generation after R.L. seemed to have lost interest in it, and finding a drummer who could play those Hill Country beats wasn't easy either. Jake and I were in high demand there for awhile." While crediting the Burnsides for musical inspiration and some long years of paying hard dues on the road, the boys had to follow their number one priority of playing original music as a two man band.
Promoting their long-awaited debut album, "Flood Type," the Flood Brothers are back on track playing solely as a duo and are known for their energetic live performances that can promote hours and hours of groove.
"Shake it if you got it…"
5:30pm-7pm Urban Pioneers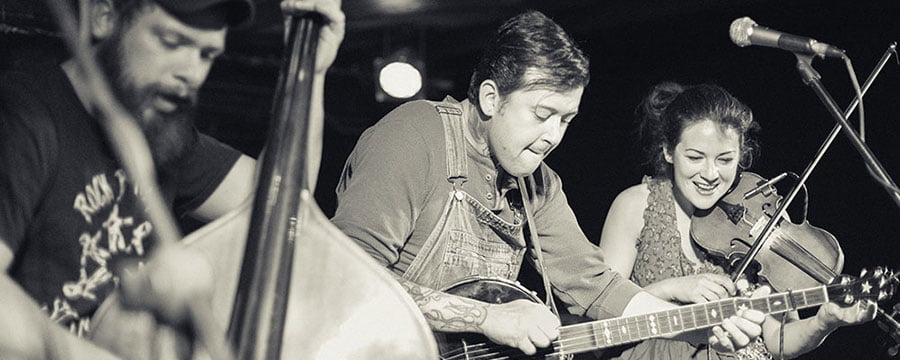 Mix one part Texas fiddle and one part Tennessee banjo, add doghouse bass and a splash of guitar and you have a delicious cocktail for your ears known as the Urban Pioneers. This string band hammers out a variety of original songs that encompass old time hillbilly music, western swing, rockabilly, and even a few gypsy type songs for good measure. 

The band stays on the road all over the world for over 250 days a year playing anywhere from large festivals to backyard parties to goat farms.
7:30pm-9pm The Mulligan Brothers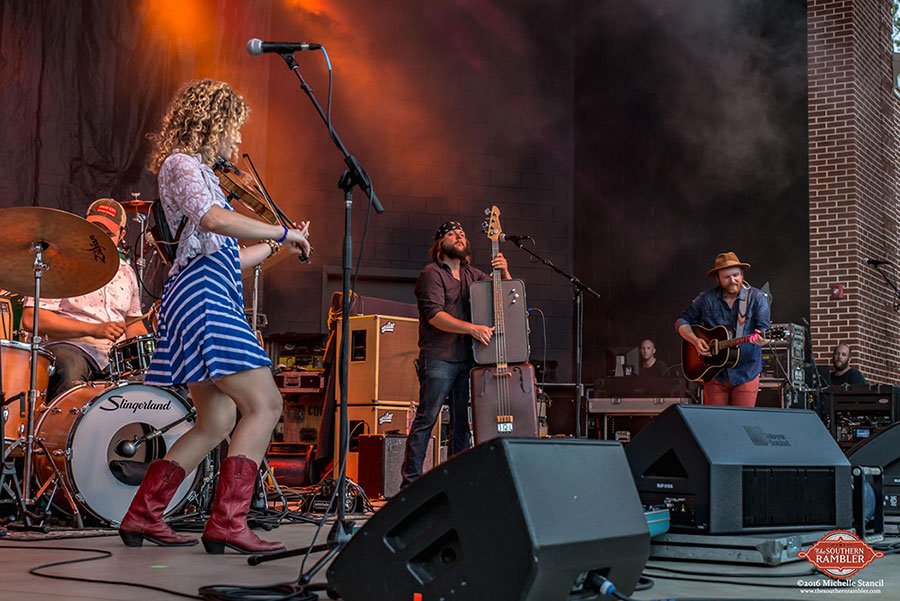 "Armed with a violin, acoustic guitar, drums and an upright bass fashioned from two old suitcases, the Mulligan Brothers, a quartet from Mobile, Ala., stand dead center at the crossroads generally defined as Americana. Folk, country and blues all factor into the sound, as Ross Newell's nuanced, radio-ready voice brings the band's story-songs to vivid life."
- Keith Spera, NOLA.com | The Times-Picayune
The Mulligan Brothers don't just write songs and play music. They speak to the soul. The lyrics and the music gets inside your head and won't leave. Via Porltand is not just a record. It is destined to become the soundtrack of your life.- John Archibald, AL.com
Under any circumstances, fans can hear more of what made The Mulligan Brothers so appealing in the first place: The easy Americana flow of music that uses traditional textures without falling into a fake rootsiness, balanced against lyrics that are often sharply contemporary. Where the previous album had "Cecilia," a tale of forbidden interracial love in the Old South, the new one has "Calamine," a haunting, inside-out murder ballad. Newell has a gift for phrases that pop out and grab you, even when you've set the album playing in the background.- Lawrence Specker, Mobile Press-Register
A friend gave me the Mulligan Brothers' first CD and I told them to call me if they wanted my help with the next one," Berlin says. "It was a slam dunk. The songs are great and the band is great. Ross' voice is a unique, magical instrument that can work for any age and any demographic.- Steve Berlin
Their talents are apparent from the start with the sublime vocal introduction to "Wait For Me" which is sumptuous in a Beach Boys Surfs Up style before they launch into a forlorn tale of loss which recalls classic 70's country rock (with the emphasis on country), Rea fiddles like David Lindley as the song ebbs and flows. "City Full Of Streets" recalls Paul Simon's writing but the violin adds a dramatic sweep and a rootsier feel than Simon utilised. "Calamine" is a murderous tale told in dramatic fashion with what seems like a prepared piano adding a chill to the mix. The best song here however is the stripped down love song "Run On Ahead" which allows Newell to shine on vocals while the band tiptoe around him with gentle mandolin, hushed percussion and sympathetic harmonies that dissolve into the ether. They close with another song that recalls Paul Simon in the lyrical department, "Not Always What It Seems" and again the delivery is almost immaculate.-Paul Kerr, Americana UK
9:30pm-11pm Sean Canan's VooDoo Players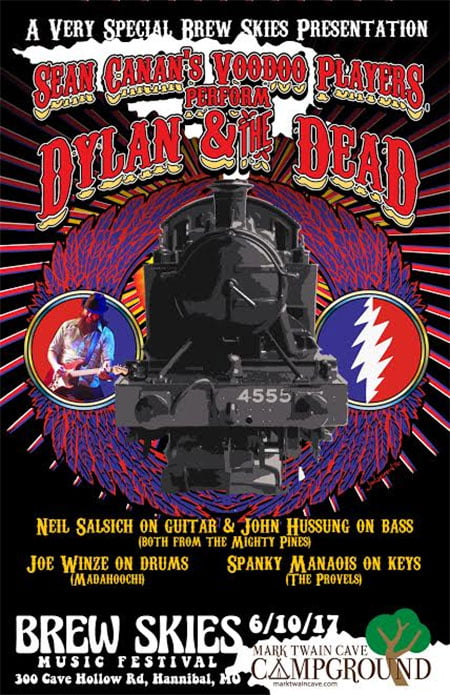 Sean Canan's Voodoo Players perform a special Brew Skies Music Festival tribute to Dylan and The Dead. The Voodoo Players include musicians from The Schwag, The Mighty Pines, The Provels, and Mahoochi, all based out of the St Louis area.